Phlebotomists Occupational Outlook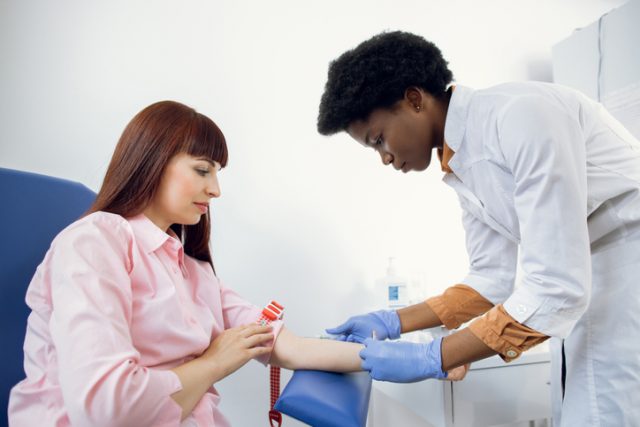 Phlebotomy Tech classes in Mesa, Arizona
Next classes start in January 2023
Quick Facts: Phlebotomists
$37,380 per year
$17.97 per hour
Postsecondary nondegree award
None
None
135,500
10% (Faster than average)
13,900
Phlebotomists draw blood for tests, transfusions, research, or blood donations.
Phlebotomists are employed in a variety of settings, including hospitals, medical and diagnostic laboratories, blood donor centers, and doctors' offices.
Phlebotomists typically enter the occupation with a certificate from a postsecondary phlebotomy program, but some qualify with a high school diploma and on-the-job training. Employers may prefer to hire candidates who have earned professional certification.
The median annual wage for phlebotomists was $37,380 in May 2021.
Employment of phlebotomists is projected to grow 10 percent from 2021 to 2031, faster than the average for all occupations.
About 21,500 openings for phlebotomists are projected each year, on average, over the decade. Many of those openings are expected to result from the need to replace workers who transfer to different occupations or exit the labor force, such as to retire.
Explore resources for employment and wages by state and area for phlebotomists.
Compare the job duties, education, job growth, and pay of phlebotomists with similar occupations.
Phlebotomists Pay
Median annual wages, May 2021
Total, all occupations $45,760

Phlebotomists $37,380

Other healthcare support occupations $37,370
The median annual wage for phlebotomists was $37,380 in May 2021. The median wage is the wage at which half the workers in an occupation earned more than that amount and half earned less. The lowest 10 percent earned less than $28,990, and the highest 10 percent earned more than $48,490.
In May 2021, the median annual wages for phlebotomists in the top industries in which they worked were as follows:
| | |
| --- | --- |
| Outpatient care centers | $38,220 |
| Medical and diagnostic laboratories | 38,040 |
| Hospitals; state, local, and private | 36,980 |
| Offices of physicians | 36,410 |
| All other ambulatory healthcare services | 35,360 |
Most phlebotomists work full time. Phlebotomists who work in hospitals and labs may need to work nights, weekends, and holidays.
Learn more about Phlebotomy: