Travel Phlebotomist Jobs Growing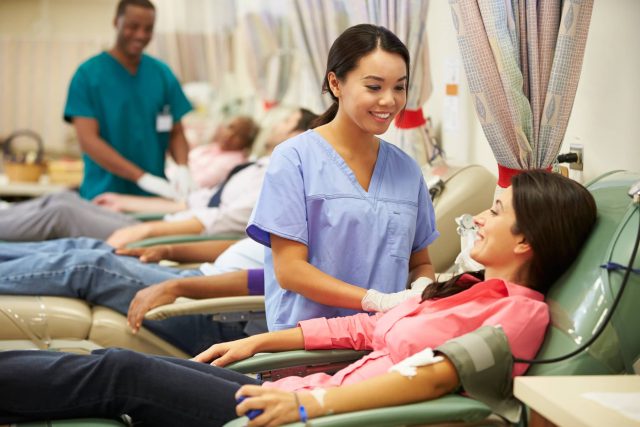 Travel Phlebotomist Jobs Growing at a rate of 17% through 2029
Content for this article is shared form AMN Healthcare | Club Staffing .
Growth for Phlebotomy careers is much faster than the average for all other types of jobs — the Bureau of Labor Statistics puts it at a rate of 17% increase through 2029. That's not surprising, as medical innovations and treatments — and the ability to find more and more information out from blood samples — has more doctors and other providers sending people to the lab. For Phlebotomist pros, this is good news, and one of the areas you might not have explored is traveling phlebotomist jobs.
As a traveling Phlebotomist, you can expect a wide range of perks, including a competitive salary. But what draws many people to this niche in healthcare is the flexibility it offers and the ability to explore areas of the country you might otherwise never visit. When you choose to become an allied traveler with Club Staffing, you pack your bags and our recruiters help you find an assignment that ticks all the boxes for personal and career growth.
What is the Travel Phlebotomist Salary? $900-$1,500/week
Travel Phlebotomists working with Club Staffing earn a salary between $900 and $1,500 per week, not including benefits like medical, dental, and vision, life insurance and 401(k) options, as well as housing stipends or free housing.
Phlebotomist Job Description
Meets with patients to collect medical history, answer questions and discuss procedure
Responsible for drawing blood from patients for the purposes of testing for disease and abnormalities
Decides the correct puncture area based on patients data like age and health history
Labels blood samples and submits to lab for testing
Records detailed notes and results on all specimens and tests taken
Where do Phlebotomist work? Travel Phlebotomist Settings
Phlebotomists work in settings that require professionals to take blood samples or donations. That can include:
Hospitals and doctors' offices
Outpatient treatment centers
Urgent care clinics
Medical laboratories
Mobile blood donation centers
Public offices, such as state or local departments of health
Disclaimer: Phlebotomist job wages are based on average rates and may be impacted by facility budgets and seasonality and may include a combination of taxable and non-taxable earnings and reimbursements.
Sumner College Arizona
Phlebotomy Technician classe
s start each month, and tuition is $895 with a $50 registration fee. Program lasts 8 weeks and then you could be on to a new career. Contact our Arizona admission office at 480-776-0070.
Learn more about Phlebotomy Jobs: